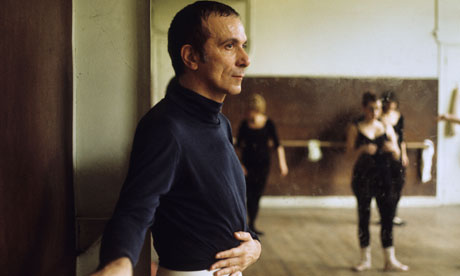 When Roland Petit's Les Ballets des Champs Elysées opened its first London season in 1946, the company brought to the British dance scene an explosion of chic and excitement which had long been missing. Not only was the standard of male dancing from Petit and his fellow dancer Jean Babilée better than anything for many years, the enthusiasm of the young company was a contrast to the restrained correctness of the Sadler's Wells dancers. Les Forains, a piece about a troupe of strolling entertainers, distinguished by beautiful decors and costumes by Christian Bérard, was the triumph of what the critic Richard Buckle described as "an evening of wonderful surprises".
Petit, who has died from leukaemia aged 87, was capable of tailoring a role so that it perfectly reflected the abilities of the dancer on whom it was made, often bringing out unsuspected aspects of their talents or personality. Such was the case with his Carmen, which was also a sensation on its premiere in London in 1949, thanks to Antoine Clavé's fabulous designs and the open eroticism of the duets. Petit created the ballet for the dancer Renée "Zizi" Jeanmaire, who sported a widely imitated cropped haircut in the eponymous role. Petit played Carmen's lover, Don José, himself. Audiences who had not seen Jeanmaire previously would have found it hard to believe that she had made her reputation as a classical ballerina. She and Petit married five years later.
Petit was born in Villemomble, on the outskirts of Paris. His father, Edmond, was a restaurateur and his Italian-born mother, Rose, later founded a shop, Repetto, which made and sold ballet shoes and dancewear. From an early age, Petit showed an interest in dancing. At the age of nine, he entered the Paris opera ballet school. He joined the company in 1940.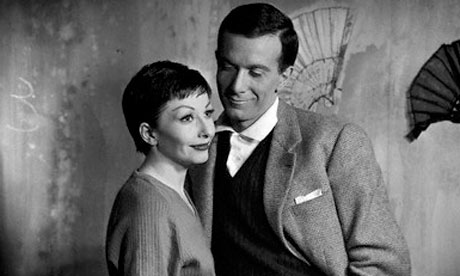 Although the years of the occupation were hard, virtually all of the great names in the arts in France were in Paris, and many frequented his family's cafe. There, he met artists such as Jean Cocteau, Henri Sauguet, Marie Laurencin, Natalia Goncharova and Mikhail Larionov. The latter two had been collaborators of Sergei Diaghilev. It was through such meetings that Petit developed his belief that only a combination of designer, composer and librettist could ensure that the choreographer's vision could be completely realised.
He made his first attempts at choreo- graphy aged 16 but, despite a promising career at l'Opéra, it became clear that the regulated and hierarchical atmosphere of that company was not for him. At the age of 20, he resigned. Evenings of dance performances at the Théâtre Sarah-Bernhardt let him show himself in his own choreographies and eventually led to his forming – with financial help from his father – Les Ballets des Champs Elysées. Petit remained with the company for three years, choreographing a number of works, most notably Le Jeune Homme et la Mort (1946), created for Babilée and Nathalie Philippart. The ballet showcased Babilée's extraordinary personality and amazing technique. Although it has been reprised by numerous male dancers from Rudolf Nureyev to Mikhail Baryshnikov, none has surpassed the original cast.
Petit then formed another company, Les Ballets de Paris, which toured extensively. During its first season, he created for Margot Fonteyn the role of the cat woman Agathe in Les Demoiselles de la Nuit (1948), which revealed a sensuousness which surprised those who knew her. This was the start of a close friendship which lasted until Fonteyn's death in 1991.
After the success of Carmen, Petit and Jeanmaire left for Hollywood, where he choreographed for a number of films including Hans Christian Andersen (1952), with Jeanmaire and Danny Kaye; The Glass Slipper (1955), starring Leslie Caron, who had danced for Les Ballets des Champs Elysées; and Daddy Long Legs (1955), with Caron and Fred Astaire. After four years in America, he returned to Paris, where he staged La Révue des Ballets de Paris, which ran from 1956 to 1959. He then choreographed and performed alongside Jeanmaire in the film Black Tights (1961), co-starring Moira Shearer, Cyd Charisse and Maurice Chevalier. As a couple, Petit and Jeanmaire represented the height of Parisian chic, elegantly dressed, often by their friend and collaborator Yves Saint Laurent. Curiously, however, the roles he made for himself included grotesques such as the wolf man in Le Loup (1953), Cyrano in Cyrano de Bergerac (1959) and the hunchback Quasimodo in Notre Dame de Paris (1965).
Petit produced a number of successful revues starring his wife, and for a time they owned and directed the Casino de Paris. He was briefly director of the ballet at l'Opéra de Paris and, in 1972, was invited to take over the direction of the municipal ballet in Marseille, where he remained for 26 years. In addition to creating a large number of ballets, he raised the standard of the troupe, which became officially named as a national company with an attached school.
He left Marseille in 1998 and, distressed by the choice of his successor, withdrew all his ballets. He settled in Switzerland and thereafter travelled widely, creating ballets and mounting old works for companies in Paris, Tokyo, Moscow and St Petersburg, South Africa, Italy and Beijing. During his lifetime, Petit created more than 170 ballets. If the choreographic element was sometimes slight, and the corps de ballet work rudimentary, they were always entertaining thanks to his sure eye for collaborators and dancers.
Petit received numerous honours, including commandeur de l'Ordre National du Mérite and commandeur de la Légion d'Honneur. His publications included J'ai Dansé Sur les Flots (I Danced On the Waves, 1993) and he had been working on an autobiography. He had been due in London this month to oversee final rehearsals for a programme of his work, including Carmen, to be staged by English National Ballet at the Coliseum in London.
His wife and daughter, Valentine, survive him.

• Roland Petit, dancer, choreographer and director, born 13 January 1924; died 10 July 2011